NPFL 2019/20 MD 15 : WE ARE READY FOR ACTION, SAYS TADE AZEEZ – Latest Sports and Football News in Nigeria #Nigeria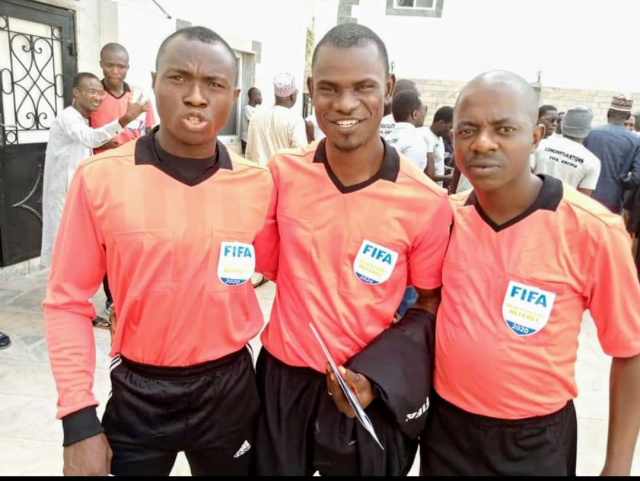 Ahead today's midweek matches in the ongoing 2019/2020 Nigeria Professional Football League, NPFL, the Nigeria Referees Association, NRA has signalled that members of its body on duty for Week 15 are turbo charged for good officiating.
President of the association, Otunba Tade Azeez made this known while appraising performances of his members since the beginning of the season.
According to Otunba Tade Azeez, the gains garnered so far shall be sustained hence the high expectations from those at match venues for this Wednesday's encounter.
While still asking teams and spectators to avail themselves of the rules of football to enable them understand interpretations of the Laws of the Game by referees, the President prayed for success of all and journey mercies.
Four retired FIFA referees made up of three women; Bola Abidoye, Stella Eloji and Felicia Okwugba will be at different centres to assess the performances of the various referees for record and developmental purposes .
While Abidoye and Eloji, two physical fitness training experts will be in Warri ( Warri Wolves vs Rangers) for Oladapo Olaniyi, and Lagos for another woman FIFA referee, Ndidi Patience Madu (MFM vs Jigawa) respectively, Okwugba, a technical instructor fresh from CAF assessorship assignment in Uganda last weekend will be at a vintage position in the stands to monitor the whistling skills of FIFA Quadri Adebimpe in the Thursday game, Akwa Starlets vs Nassarawa United at Uyo. The male former international referee, Sani Madaki from Katsina is Akure for the Sunshine vs Plateau.
Similarly, spokesman of the Nigeria referees, Sir Kelechi Mejuobi, KSJI, an Assessor too, will have to temporary leave information about referees for 90 minutes to keenly observe and report how the referees in Uyo will fare in the match involving Akwa United against Kwara United in Uyo, Akwa Ibom state. The Referee is Kassim Ajibola
The Deputy National Financial Secretary of the NRA, Alhaji Mohammed Odihili will also be in Umuahia to oversee how the team led by a soldier, Markus Bwasi will control the Abia Warriors vs Ifeanyi Uba match in Umuahia.
The complete appointment of the NFF Referees Committee!
141 WARRI WOLVES VS RANGERS INT
BOLA ABIDOYE KD Assessor
OLADAPO OLANIYI OD Referee
ABUBAKAR SAFYANU KN Assistant Referee 1
ABBA ABUBAKAR BA Assistant Referee 2
AIKOR aSHAGBA BN Fourth Official
SALEH ABULE AD Match Com
ABIA WARRIORS VS IFEANYIUBAH FC
ALH ODILILHI DT Assessor
MARCUS BWASHI BA
AWOSAKIN OLAJIDE OD
CHINA L RV
SHEHU SAIDU KN
INNOCENT MAMZA BO Match Com
ENYIMBA INT VS HEARTLAND FC
A SHITTU KD Assessor
JACOB GWATSA FCT
ABUBAKAR ABBA FAGGE KN
SONIBARE SADIQ LG
AGBA SAMUEL CR
JBC OBIKWELU AN Match Com
KATSINA TD VS KANO PILLARS
IBRAHIM ZANILANI BA Assessor
OBAYEMI OLATUNBOSUN OG
AUWAL USMAN GM
ORIOHA EMEKA AB
TOYIN SUNDAY KW
JOHN ZANDAI BO Match Com
AKWA UTD VS KWARA UTD
KELECHI MEJUOBI IM Assessor
AJIBOLA KAZZIM OG
DONALD ANDREW BA
ALIU ABBA KD
KINGSLEY N AB
P I UZOMA IM Match Com
SUNSHINE STARS VS PLATEAU UTD
SANI MADAKI Assessor
SYLVANUS UMOH AK
ADAMU ZAKARI JG
SAFIANU BAZZA AD
EZEOGU OKECHUKWU EN
BRIGHT OMOROGIE ED Match Com
ADAMAWA UTD VS WIKKI TOURIST
B.K NG Assessor
KAZZIM ABDULSALAM ZM
MUSA ISAH NG
FELEGHA J BY
OLUWABONMI O OD
KABIRU BABA NG Match Com
MFM FC VS JIGAWA G STARS
STELLA ELOJI NS
NDIDI MADU EN
LAWRENCE OSURIA ED
F AGUGESI IM
SANUSI ZAKARI KG
PRINCE ADELOYE DT Match Com
RIVERS UTD VS LOBI STARS
DELE ATOUN LG Assessor
ABUBAKAR ZUBAIRU KT
ISA SANI TR
ALIU ISAH JG
YINKA OGUNJEMELO OD
IBRAHIM ABDUL KN Match Com
DAKKADA VS NASARAWA UTD
FELICIA OKWUGBA PL Assessor
QUADRI ADEBIMPE LG
KINGSLEY ANYANWU IM
USMAN ABDULLAHI GM
AMINU ADAMU SK
IDIKA DICKSON EB Match Com